TOP >
2023 >
Naondo Monumental / Oriental
Naondo Monumental / Oriental
Details
Title
Naondo Monumental / Oriental

Dates
2023/7/15(Sat)~2023/9/3(Sun)
Closed
Mondays (Except for 2023/7/17) and 2023/7/18
Open Hours
10:00〜18:00(The Museum entrance closes at 5:30PM)
Ticket
Adults ¥800(¥600)
University students/High school students/Seniors (65 and older)  ¥600(¥500)
Junior high school students free
*( )=Group of 20 or more/Meguro Citizens
*Visitors with disability and one person accompanying them are admitted free of charge. (Please present certificate at the admission.)
Organized by
Organized by:Meguro Foundation of Art and Culture (Meguro Museum of Art,Tokyo)
Supported by:Kitano Foundation of Lifelong Integrated Education
Co-curated by: Ueda City Museum of Art
List of Exhibition Naondo
PDF:2.39MB
NAKAMURA Naondo (1905-1981) was a popular sculptor before WWII, and became well-known when he went to Paris after the war with his paintings by gouache. After returning to Japan, he based his activities at Nika Association, and created many works; sculptures, paintings, and prints. He spent later days of his life at his atelier in Meguro City. The exhibition demonstrates precious works and materials, mainly kept in his birthplace, Ueda City, Nagano Prefecture, so as to closely approach his life.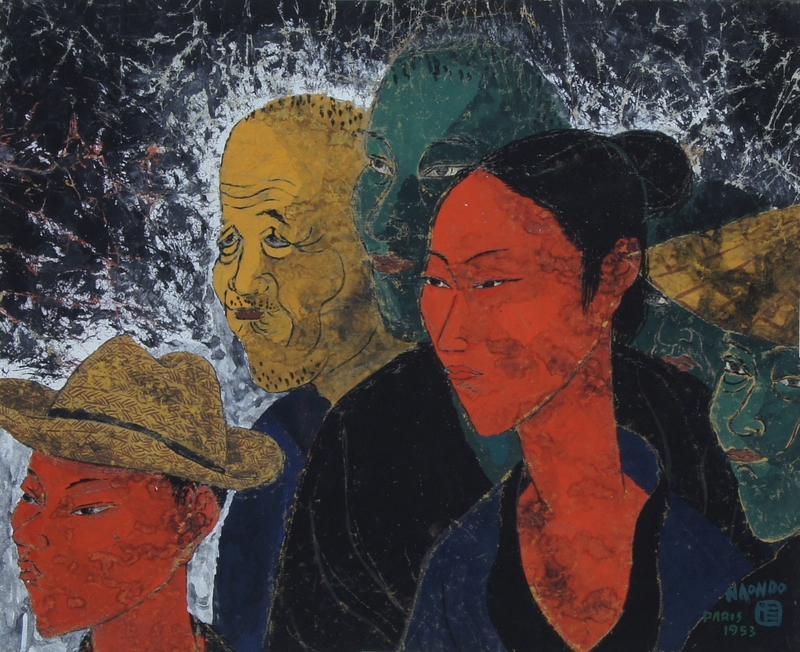 NAKAMURA Naondo,Japonaises People,1950's, gouache on paper, Kosugi Hoan Museum of Art, Nikko

 NAKAMURA Naondo (1905-1981) was born in Chiisagata-gun Kangawa-mura, Nagano Prefecture (currently Ueda-City, Nagano Prefecture). He was an artist who played an active role as a sculptor before the war, and who made a name after the war, as a painter portraying sorrowful females with unique painting methods in Paris. In later years, he set up an atelier in Meguro-Ku, Tokyo, and performed brilliant activities such as receiving the Prime Minister's Award of Nika Association. He has left many of his works in Ueda-City and his unique painting style of his later years remains in the hearts of many people together with the image of Naondo NAKAMURA and his strong personality.
 The Exhibition is the joint project between Meguro Museum of Art, Tokyo, and Ueda City Museum of Art, introducing historically the life of NAKAMURA Naondo with his works rich in changes and variety made in his early days, in his Paris days, and in his later days after he returned. The exhibits include the big wooden carving created during the war, and the intensely colored works by gouache (opaque watercolor) painted in the 1950's. We are certain that they will give you profound surprise, especially when you know that he was quoted at the time as "the artist who had established himself as a sculptor in Japan, and who came to conquer 'Paris' as a painter."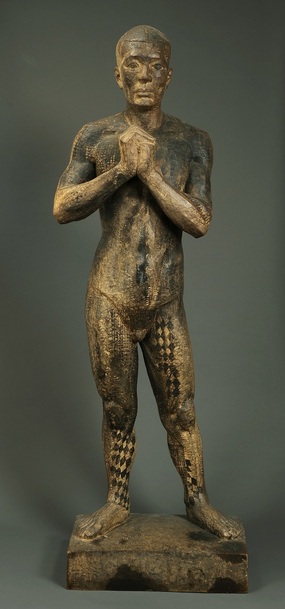 Naondo, born in 1905 in Ueda-City, was invited to the art world of sculpture by the painter, YAMAMOTO Kanae who had started the art education movement. In the cultural tide of Taisho Democracy, Kanae as an art movement activist brought in the concept of art into the life of the people, but indeed produced one artist. Naondo started to be active in "In-ten Exhibition; bi-annual exhibitions organized by the Japan Art Institute" and was recommended to be the highly qualified member at the young age of 31.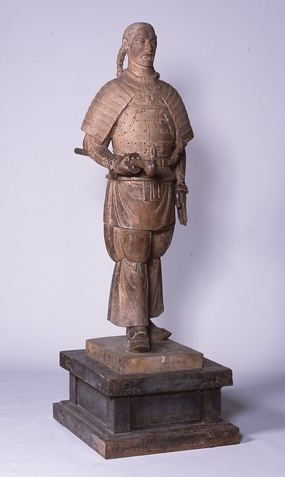 In 1937 when the Japanese-Chinese War broke out, he immediately volunteered to serve. Obtaining a letter of recommendation from YOKOYAMA Taikan , he went to the battlefield as a correspondent. He created such monumental works and made them public with enthusiasm such as; ink and pigment paintings based on the sketches of Tianjin and of Beijing, sculptures "Sakimori (soldiers garrisoned in Northern Kyushu in Ancient Times)" and "Kusanagi-no-Tsurugi (A Sword of Kusanagi; One of three imperial Regalia of Japan)".

This kind of creative attitude that responds to the needs of the times appears also in his two-dimensional works that he began to work on after he went to France, such as in the use of oriental Buddhistic five colors; green, yellow, red, white, and black, and in three-dimensional expression modeled after the Buddhist sculptures. Perhaps, he was also inspired by the "milky-white skin" depicted by FUJITA Tsuguharu that became very popular in Paris before Naondo arrived there. The gouache works by Naondo is to paint first on yellowish Japanese paper, then to knead that paper to make wrinkles intentionally, which then flakes off the paints. This makes the texture of the picture stand out, which he intended.
Naondo was an artist who rather than holding out his own style, but creating many works like a craftsman reading the trends of the people and of the time. We would be most pleased if this Exhibition gives the viewers an opportunity to look back at the achievements of this rare artist.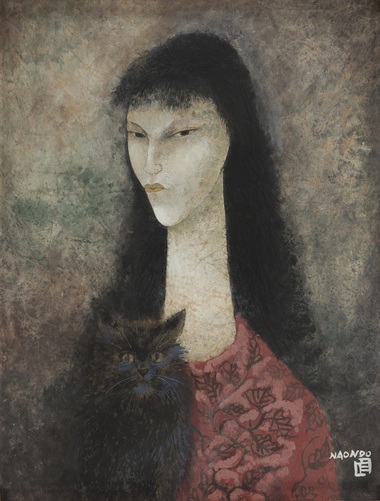 NAKAMURA Naondo,Woman and Cat,1952-1964,gouach on paper,Ueda City Museum of Art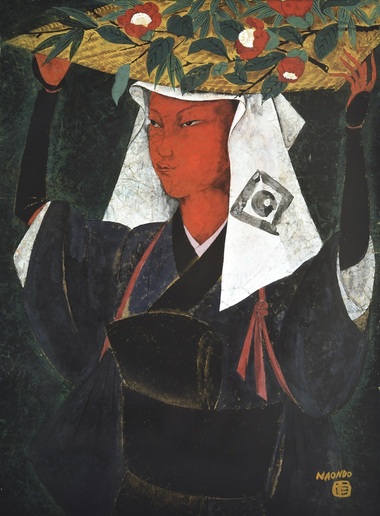 NAKAMURA Naondo,Woman Peddler in Kyoto from Ohara,1956,gouach on paper,Nagano Prefectural Art Museum

NAKAMURA Naondo,Still Life with a Peach,1963,gouach on paper,Kosugi Hoan Museum of Art, Nikko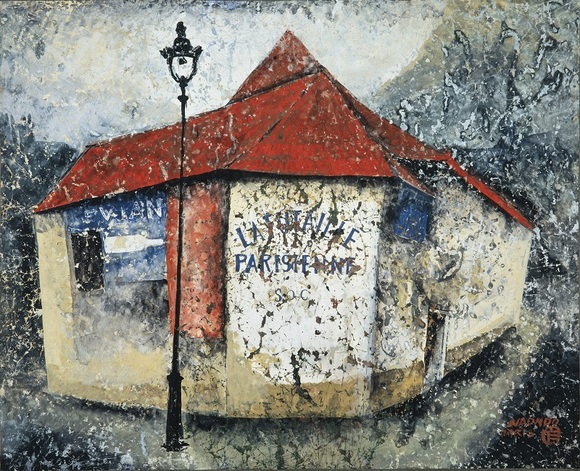 NAKAMURA Naondo,Red House in Paris,1953,gouach on paper,Kosugi Hoan Museum of Art, Nikko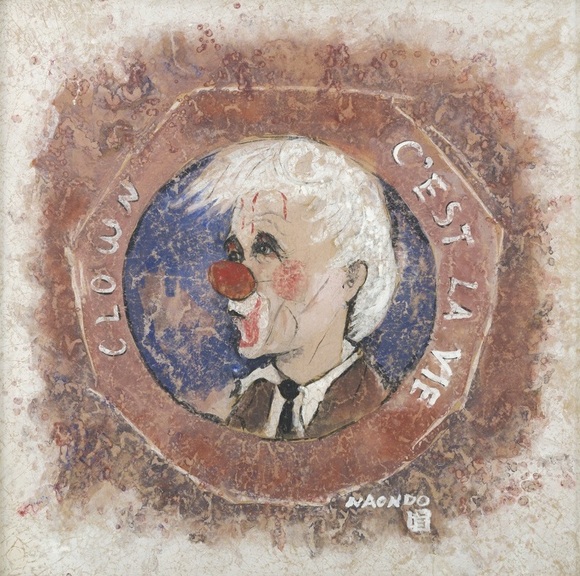 NAKAMURA Naondo,Clown,1960,gouach on paper,Ueda City Museum of Art,Atelier Mori Collection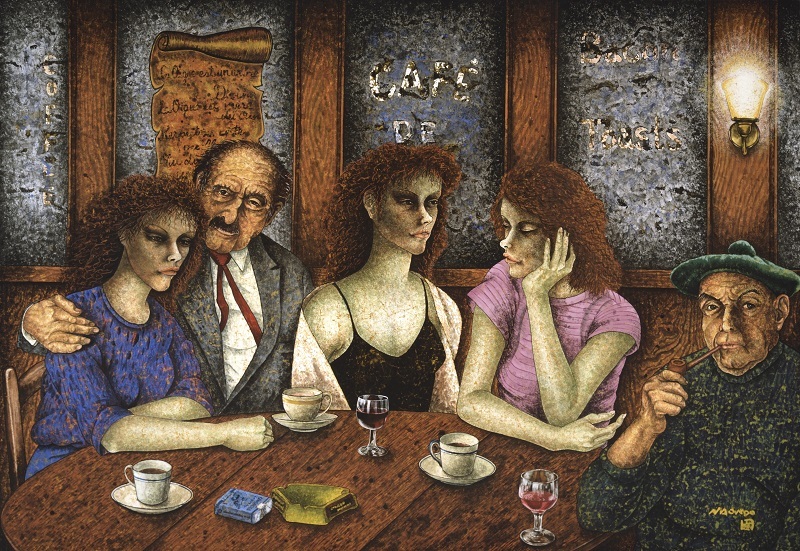 NAKAMURA Naondo,Meeting,1980,gouach on paper,Nagano Prefectural Art Museum